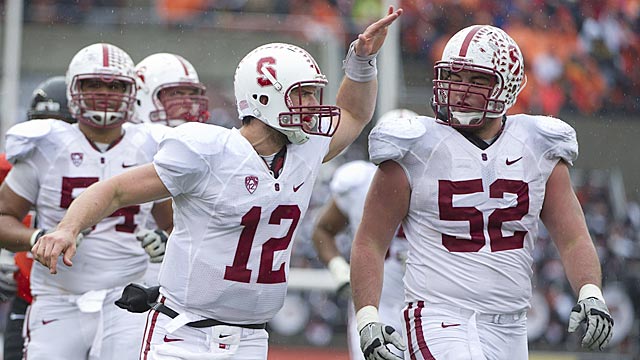 Sparring some sort of terrible disaster, tomorrow will be the end of the 2012 draft process. And with it, we will have the end of the daily draft commentary from people who may or may not know a damn thing about football or the people who play it. I'm looking forward to seeing who the Seahawks draft only SLIGHTLY more than I am to the end of the daily rehash of the same draft topics every hour of every day.
That said, allow me to be a hypocrite for a quick second. I won't pretend I know all that much about the draft (I don't give two squats about college football). But I think I get a good sense of how good these players are just by digesting thousands of opinions on them (informed or not).
TAKE HIM TAKE HIM TAKE HIM NOW!
Trent Richardson:
Marshawn Lynch had some winning over to do when the Hawks traded for him in 2010. I didn't think much of the trade. But win me over he did. Beast Quake made him a legend, but since then he has also become a pretty darn good running back. The Skittles shower run just added to his legacy, but his numbers were fantastic in the second half of the season.
That said, he can't do it by himself, and having a competent backup could make Seattle's running game something to be feared. Imagine a split backfield with Lynch on one side and Richardson on the other. And picking Richardson, at the very least, would keep some miles off Lynch's tires.
He's not likely to fall to 12, but I don't see Cleveland picking him up at number 4.
David DeCastro
Or just imagine Lynch running behind three first round picks, including an Okung-DeCastro duo plowing open holes big enough for stampedes to clear through. Of the players likely to fall to number 12, I want DeCastro the most. He seems like a sure thing (though that doesn't exist in the draft) to be a pro-bowl lineman, and he did an excellent job protecting Andrew Luck.
Justin Blackmon:
He probably won't be falling to 12, and there is invariably one wide receiver expected to be an elite no.1 wideout, but the the chance persists that he could be that player. And Blackmon's potential across from a healthy Sidney Rice is really nice to think about.
Sure, I guess:
Luke Kuchily:
Before the national media realized that the Hawks had a need at linebacker, Kuchily was an early second round pick. He is a product of the draftnicks, not a rise in stock. He might be good, and I like his combination of smarts and physical ability, but guys that shoot up like that scare me.
Quentin Coples:
There's been so much talk about whether this guy has the work ethic to be a true NFL blitzing badass like Jason Taylor. If he can, Carroll and Schneider will know that, and they'll pick him. If not, they'll know, and he won't be picked. He's an intriguing pick, but there's probably been far too much talk linking him to Seattle for it to actually happen.
Chandler Jones:
Like Kuchily, Jones came out of nowhere to suddenly occupy Seattle's draft spot. It would be a very Chris Carpenter-esque pick, someone who had only sparingly been mentioned as a first rounder, let alone so early. He sounds like a good player, but if he's really that good, why wasn't he a first rounder before three days ago?
Ryan Tannehill:
I didn't believe the story about Carroll's giggling for a second. It reeks of smokescreen, and if it works, it could force someone to trade up into the top 11 picks to get him, which could cause another player to fall to 12 who otherwise wouldn't. No reason not to try.
But. BUT. If it is true, and Seattle drafts him, I'll still be happy. Because it will mean that Carroll really likes this guy. And if we learned anything watching USC over the last decade, it's that Carroll knows what he wants in a quarterback. It won't happen. BUT IF IT HAPPENS.
Trade Down:
Melvin Ingram:
Something about this guy just screams "Lawrence Jackson" to me. Which isn't really an insult, since I liked Lawrence Jackson. But, at number 12, the Hawks probably won't find the value they're looking for.
In the end, I think I'll like whoever the Hawks draft. If they trade down, great. If they trade up, great. If they get Tannehill, great. I believe these guys know what they're doing, and even if they do somehow screw up the pick, they'll make up for it with later picks.
By the way, if they don't pick Tannehill, I'd like to see them give a chance to Russell Wilson in the third round. He's got so much talent and is already used to playing in front of NFL-sized offensive lines. He can do professional football.