With Seattle's signing of Jaye Howard today (via Field Gulls), the Seahawks will have at least nine of their ten draft picks in town for... rookie minicamps? rookie otas? Is there even a "rookie" in the title? They should just call all of these VMAC get-togethers "PRACTICE". Nice and simple.
Point being, there aren't any holdouts this year. Bruce Irvin was the first of Seattle's picks to sign, and the first first-rounder (which I'm sure caused a number of double-takes among ESPN readers). Then, they signed seven others the next day, leaving only the DT Howard and Sea-Hulk halfback Robert Turbin.
Upon googling Sea-Hulk, I was surprised to find that Turbin will not be the only creature to be referred to with that name. The first was a boss from a video game. Final Fantasy of all things! The other was this: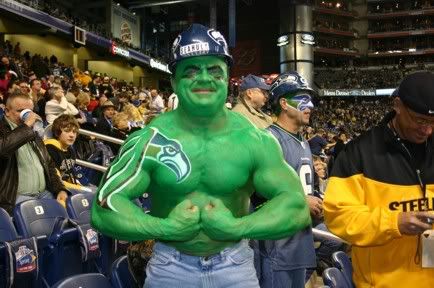 Which you could say was from Seattle's Final Fantasy. Although, it'd probably be more accurate to call it the "Most Recent Fantasy". Because Final implies that it will never happen again, and I'd rather not believe that even if it is true. I'm not sure how well a game called "Most Recent Fantasy" would sell, but there it is.
While I'm concerned that Turbin hasn't signed yet (you're the last guy dude! What's the holdup? Even the
Turtle
guy has signed already! We drafted some weirdos didn't we...) it probably won't make a bit of difference. From what I understand, these guys can still participate even without having signed a contract, and Turbin seems like a good kid. For all I know, he could sign on the dotted line between now and when the security guard opens the gates to Seahawks headquarters tomorrow morning.